Kenny Huang (from left to right), Managing Director and CEO, TWNIC; Edmon Chung, CEO, DotAsia Organisation; and Jia-Rong Low, Vice President, Stakeholder Engagement and Managing Director, APAC, ICANN.
The Taiwan Network Information Center (TWNIC) and the DotAsia Organisation (DotAsia) signed a MoU of bilateral collaboration on March 24 under the witness of the Internet Corporation for Assigned Names and Numbers (ICANN). The two registries for ccTLD and gTLD have established a Fast Track mechanism via Trusted Notifiers to initiate a collaborative model with timely reporting and fast response to effectively combat cross-border cybercrime in relations to DNS (Domain Name System) abuse.
Jia-Rong Low, Vice President, Stakeholder Engagement and Managing Director, APAC, ICANN
Jia-Rong Low, Vice President, Stakeholder Engagement and Managing Director, APAC, ICANN said that DNS abuse is an emerging issue within global Internet community because of the increasing threats for cyber security. Low was honored to be a witness at this MoU signing ceremony, and he was also very heartened that TWNIC and DotAsia were moving ahead to establish a Trusted Notifier mechanism to reduce DNS abuse and to make the Internet safer and more secure as well as strengthen the entire cyber ecosystem.
TWNIC is the registry for .tw, country code top-level-domain (ccTLD) representing Taiwan, and DotAsia is the registry for the .asia, general top-level-domain (gTLD). Through the collaboration of ccTLD and gTLD, TWNIC and DotAsia are committed to a consistent adherence to a high level of substantive and procedural due diligence with respect to accuracy of reporting under the to-be-developed anti-phishing Fast Track mechanism.
By means of this collaboration MoU, TWNIC and DotAsia demonstrates its commitment to the fight against illegal and/or fraudulent activities in the context of phishing and cements its reputation as a benchmark organisation in this field.
With the past experiences, for instance, when illegal activities related to DNS abuse occurred, a registry would collaborate with the judiciary in the hope of getting the website to take down through law enforcement. However, it could take a very longer time for judicial authorities to determine whether it was an illegal activity, and it could be even more difficult to conduct legal actions if the domain name registrants were outside Taiwan. Therefore, TWNIC and DotAsia decided to collaborate with each other through information exchange and mutual recognition as the trusted notifier. By doing so, when either TWNIC or DotAsia receives the notification via Fast Track mechanism, it is able to immediately take appropriate actions under the domain name registration agreement to reduce the cybercrime impact.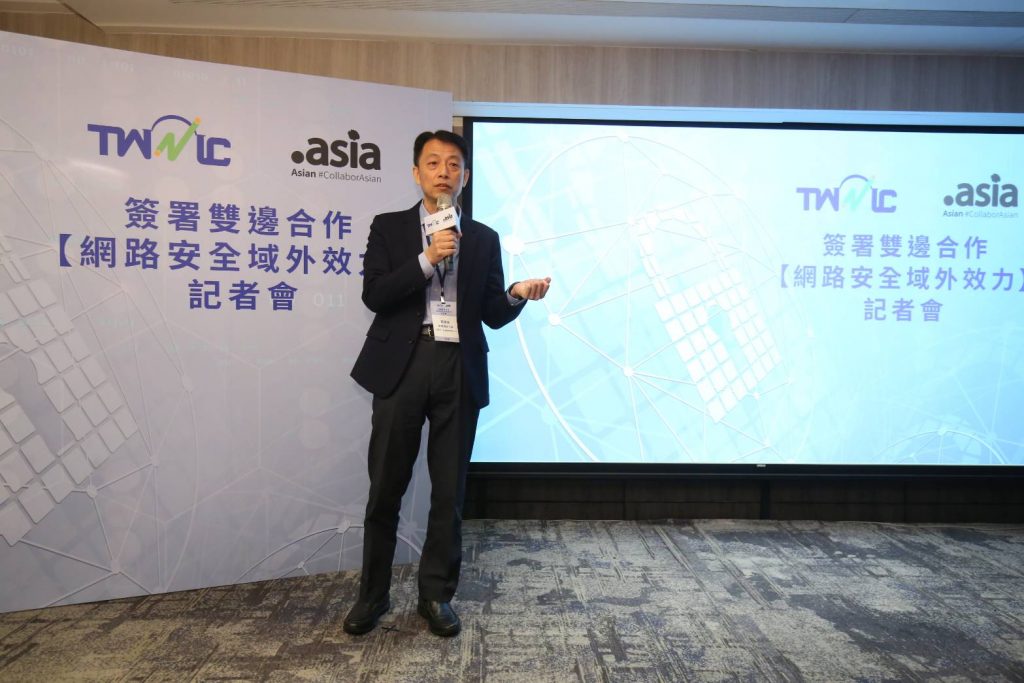 Kenny Huang, Managing Director and CEO,  TWNIC
Kenny Huang, CEO of TWNIC pointed out that according to statistics, more than 920,000 cyber incidents related to DNS abuse were being reported every year in Taiwan, and these incidents would need to go through the current judicial procedures, showing that the traditional collaboration with law enforcement agencies may require much longer time to achieve the purpose of safeguarding cyber security. Therefore, TWNIC hoped to collaborate with different registries, like the MoU signed with DotAsia, to jointly curb cybercrime and build a safer Internet environment for Taiwan. This collaboration between different top-level domain name registries was the first time in the world, hoping that more registries would join efforts in the future to build a safer and better Internet for everyone.
According to the TWNIC's Domain Name Registration Agreement, the registration and use of the domain name, if third parties' rights and interests could be influenced or if the safety or operation of the Internet could be harmed due to reasons that could be attributed to the registrant, TWNIC may, on its own or upon receiving the competent authority's notification, suspend or otherwise take action against a registered domain name, depending on the situation. Said causing harm to the safety or operation of the Internet refers to the actions or activities including, but not limited to, registering a domain name to conduct botnets, malware, pharming, phishing, and spam. The registrant shall ensure the completeness and safety of the information security systems in its application and use of the domain name.
Edmon Chung, CEO, DotAsia Organisation
Edmon Chung, CEO of DotAsia Organisation said that as the Internet became an indispensable part of modern life, cyber security threats also became a top priority to be safeguarded with a safer and more resilient protection mechanism. As DotAsia had had a long and fruitful relationship with TWNIC for many years, he hoped that this announcement with TWNIC represented a concrete step towards establishing an effective mechanism to enhance mitigation against DNS abuse and phishing. Meanwhile, based on this collaboration, he also hoped that other top-level domain registries in the region and beyond would take part in this work to make a real difference for safer Internet for the people in Asia and around the world.